Click the buttons below to scroll down to see how to prepare the recipe:
Ingredients
Method
Preheat the oven to 200ºC
Peel the potatoes and cut them in half. Boil them in salted water until completely cooked, drain well and toss in 30ml of oil, season with salt and pepper. Keep aside
Peel and remove top and tail of carrot, onion and celery
Roughly chop the vegetables and place in a roasting dish
Season the meat with salt and pepper
Place the veal on top of the chopped vegetables, pour 30 ml of oil over the meat and put in the oven
After 10 minutes scatter the potatoes around the veal and turn the oven down to 170ºC
Cooking time: 40 minutes at 170ºC
When the veal is cooked transfer meat and potatoes to a plate. Cover loosely with foil and keep in a warm place
Add tomato paste to the roasting dish. Pour beef stock into the pan and simmer for 5 minutes, low heat, stirring with a wooden spoon.
Mix the corn flour with a small amount of cold water and add to the sauce stirring continuously – 1-2 minute. Add any juices collected under the resting meat
Strain the sauce, into a small saucepan and discard the vegetables
Carve the meat between the bones and serve with sauce, potatoes and your favourite vegetables
Meet Stephan Muller
The Wursthütte owner since 2013.
Old Werner Muller started the Wursthütte Butcher Shop in Malvern more than 35 years ago. His goal was to produce the most authentic sausages for his Australian customers. His quality standards were extremely high. The Wurst (sausage) had to be so perfect that you could sell it in any European butcher shop from Zurich to Vienna. Werner's nephew, Stephan Muller, arrived from Luzern Switzerland thirteen years ago to help out his uncle. He always wanted to learn this traditional craft from him. Stephan, a sixth-generation Butcher, later became the owner of the Wursthutte in 2013. Today, Stephan continues the family legacy in a very competitive market.
About Us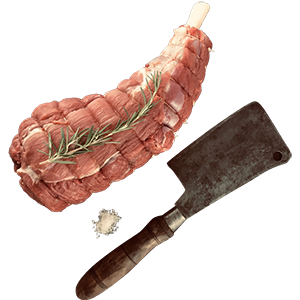 A sneakpeek to some of our social media presence.